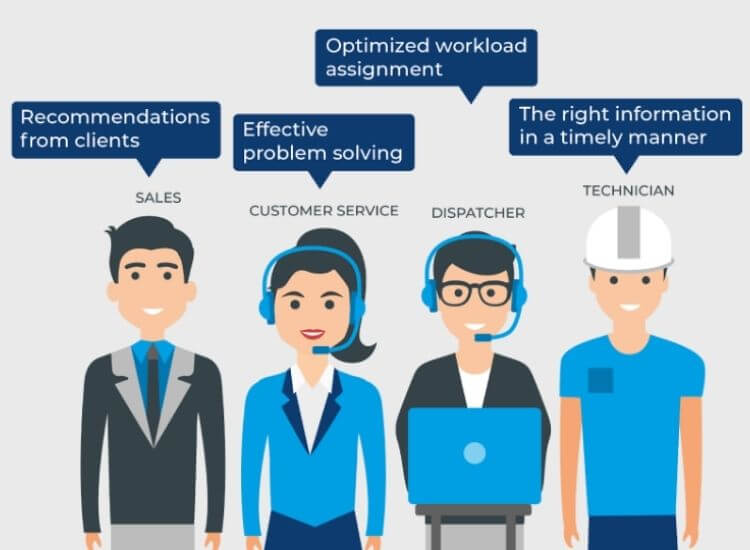 When it comes to field management, there are various field service software options on the market today. This program is designed to handle all aspects of your business, including service, billing, routing, scheduling, dispatching, and client information storage. If you're still undecided, here are a few reasons why you should use a Field Service Management System.
Automated processing.
The use of a program will help you manage your field operations in a more efficient and organized way. As the day progresses, the software is able to adjust with it. On a hectic day, this kind of conduct saves a lot of money by lowering the amount of time and effort lost to misunderstanding and irritation.
Productivity will rise as a result
Using FSM software, the tedious task of filling out forms, data, and updating logs at the office may be automated, freeing up staff time. Workers and technicians will be able to devote more time to their real work duties as a result. By making better use of their time, your staff is able to get more done in a day, which increases productivity and speeds up the dispatch process.
Enhancement of cost-effectiveness
The use of FSM software not only reduces costs but may also increase one's earnings. In order to save time and enhance the number of tasks, your team can accomplish, digitizing and aligning all papers in a single network is essential. As a result, you'll be able to take on more work, complete more tasks, and make more money each day
Field workers' ability to do their jobs effectively
The core FSM software may be accessed at any time and from any location by technicians who have a linked app on their mobile devices. Access to tools and resources needed to complete a task, such as contacting technical assistance, is also covered. Technicians will benefit from real-time contact with the backend employees, which will increase their productivity and, as a result, increase their level of customer happiness.
When on the road, service technicians may update the progress of a project, order replacement items, and check inventories. They can accomplish their tasks more swiftly and effectively because they have the flexibility to remain on the field. GPS monitoring boosts their capacity to accomplish tasks that need exact geographic positions. The app may also be used to keep track of their arrival time and even inform them if they stray outside the designated area.
Accuracy is becoming better
Since the service supply chain's inventory monitoring is very exact and documented at the root level, the accuracy of jobs is also improved. It has the ability to determine and compile a list of the components that field workers will need to complete the jobs they have been allocated for the week. There is no need to return to the store for extra equipment or components for the full week.
Enhancement of reactivity
An intelligent field service management system can react to changes in field activities. Tasks may need specialized equipment or additional workers. The software may uncover these risks before sending an expert. With no need for human participation, the program will prioritize high-priority jobs while experts are unavailable.
Allows for future growth.
FSM software is perfect for managing scalability since it can handle complex data and escalate customer needs. Owners who manage their businesses in this way can better plan for future development. As a business expands, FSM software can adapt and advise on what needs to be added to stay up with the workload.
Contact us if you need a Field Service Management Software that provides you with all of these benefits.
Read More: Increase Employee Retention With Talent Management Software